Brembo at a Glance
Brembo is a world leader and recognized innovator of disc braking systems technology for vehicles. The company currently operates in 16 countries in 3 continents, with its own industrial premises and sales offices, and more than 7,000 employees stationed all over the world.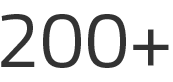 The Brembo High Performance (HP) Program is the direct result of winning over 200+ World Championships and decades of designing brake systems for the worlds top supercar manufacturers.
Brembo Dominated Motorsports: Formula 1, World Rally Championship (WRC), NASCAR, Champ Car World Series, Indy Racing League (IRL), American Le Mans Series (ALMS), Grand Am Rolex Sports Car Series, Speed World Challenge, and FIA GT Championship.

Brembo has a unique relationship working directly with automotive manufacturers to develop high performance braking solutions specifically for your vehicle. You can rest assured that every system designed by Brembo is specifically tuned for your vehicle like no other braking system on the market.
Brembo supplies over 30 automotive manufacturers including Acura, Aston Martin, Audi, BMW, Cadillac, Chrysler, Dodge, Ferrari, Ford, General Motors (GM), Honda, Infiniti, Jaguar, Jeep, Lamborghini, Land Rover, Lexus, Maserati, Mercedes-Benz, Mitsubishi, Nissan, Porsche, and Subaru.

Brembo uses its own foundries in the industrial process, whereby bringing a thorough knowledge of metallurgy to its design know-how which also creates further synergy in the optimization of the production cycle. The research and development phase is flanked by the testing phase which involves static, comfort and road testing and dynamic tests on test benches.
Brembo brakes are manufactured under quality and environmental ISO 9004 and ISO 14000 management standards which puts Brembo in a league of its own in high performance braking.
Brembo Around the World
Headquartered in Italy, Brembo is a fully fledged multinational with operations in three continents and production facilities in sixteen countries. It also has commercial branches in Sweden, France and Germany and markets its products in a remarkable seventy nations worldwide.
The group has a workforce of around 7000 employees, approximately 10% of whom engineers and product specialists engaged in vital research and development activities.
Each year, new human and manufacturing resources are taken on by the different Brembo branches around the world, especially in emerging and developing markets.
The primary goal of Brembo's strategy of international expansion is to establish a presence in the countries where the group's main clients have production plants, so that its products may be supplied more rapidly and more efficiently.
The story of a myth, now in a book. Brembo 50 Years, the e-book that chronicles 50 years of innovation, style, performance, comfort and internationalization.